Tijdens de eerste lockdown in 2020 – weet je nog – was tennissen verboden, maar kwam er een verlossend telefoontje van een goede vriend. Een verslag van een zoektocht naar een tennisbaan.
Zelfs de haren van een tennisbal leken – april 2020 – tijdens de eerste lockdown het virus over te kunnen dragen, via zweetdruppeltjes en de adem van je vrienden. De entree van het coronavirus binnen de Nederlandse grenzen zorgde voor angst en binnen een paar weken was ons tennisgenot afgepakt.
Toen ik tenniste, keek ik opeens weer écht naar de bal, hoe dat vilt er ook alweer uitziet. Wat die gekke gele haartjes nou precies absorbeerden. De bal is eigenlijk het enige dat je als tennissers deelt, in de sport die gemaakt is om afstand te houden. Maar zelfs het gravel en de onschuldige bankjes langs de kant leken nog bijna verdacht tijdens coronatijd.
Eerst sloten alle tennisparken. Gele borden joegen de tennissers weg, die met hun racket aan kwamen fietsen. Tennissen op een openbaar tennispark was in de eerste lockdown illegaal geworden. De hoogste hekken gingen op slot, maar zelfs dat weerhield sommige tennissers niet om illegaal de baan te betreden.
Ik probeerde snel te wennen aan de nieuwe situatie. In het grote sport-niets van de lockdown, waar alleen individuele activiteiten als hardlopen en fietsen waren toegestaan, vond ik opvallend genoeg geluk bij een bakstenen netje op een miniveld, even buiten de ongebruikte gravelbanen van tennisclub Tiebreakers, naast het Flevopark in Amsterdam-Oost. Zo'n vijfhonderd meter van mijn huis. De jaren daarvoor was die muur nooit opgevallen.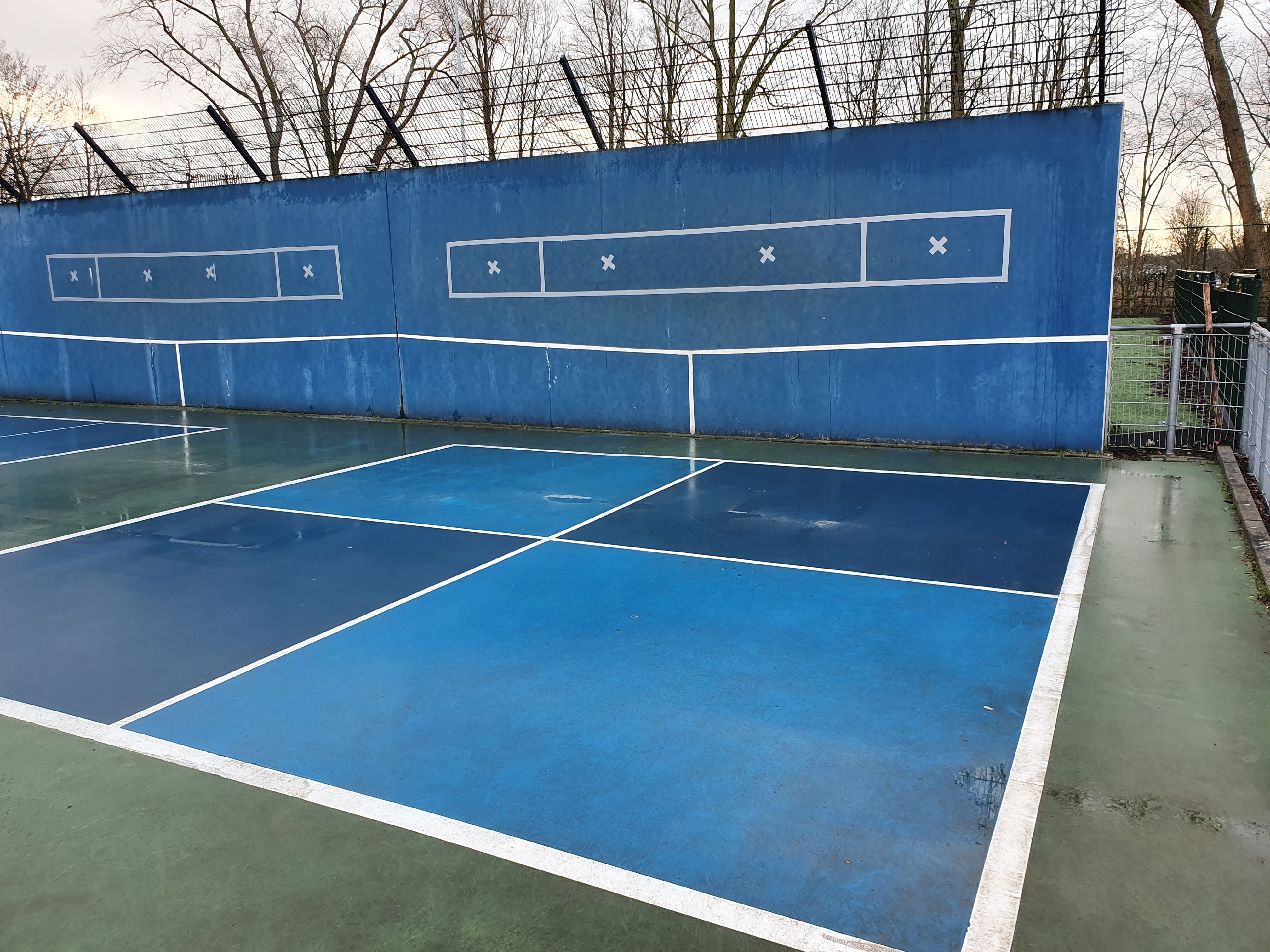 De tennismuur bleek opeens een vergeten lekkernij, die ik meer dan twintig jaar had genegeerd. 'Het muurtje' bleek net zo'n scherprechter als ik toen ik twaalf jaar oud was en net op tennis zat. Backhand, backhand, backhand, voeten verplaatsen, forehand, forehand, harder, harder, harder, ah jammer.
Elke paar dagen fietste ik naar het muurtje van Tiebreakers, dat me in al die jaren nooit was opgevallen. Maar in heel Nederland bleken voetballers, tennissers, hockeyers, en ander gespuis massaal de wet te overtreden, om hun liefde voor de sport te belijden.
Dus werd alles nog strenger.
Op een gegeven moment werd zelfs het muurtje met graffiti en de miniveldjes met stenen netten afgesloten. De lockdown was compleet voor de tennisser. Niet aan te ontkomen. Toen we echt nergens meer mochten tennissen, was tennissen het enige dat ik nog wilde, zoals dat wel vaker gaat met dat soort dingen.
Een privébaan
Normaal staat de maand maart voor dagen die snel lichter worden, voor de lente die zich eindelijk aandient, een lente met overvolle tennisbanen, nieuwe rackets, frisse snaren en de hoop van een half miljoen Nederlanders om dit seizoen toch nog één speelsterkte beter te worden.
In het tennisvacuüm van deze eerste lockdown belde een vriend opvallend blij op.
'Ik liep vanochtend met de kids door het bos en ik kom een of andere privébaan tegen. Ik had het nog nooit eerder gezien. Ik heb aangebeld.'
Het betekende wat hoop. Ik was ondertussen zo desperate geworden dat ik serieus op Google letterlijk 'huis met tennisbaan' had ingetikt en op Funda alle huizen aanklikte met een tennisbaan, zelfs als het geen gravel was. Alle uithoeken van Nederland heb ik gezocht voor een betaalbaar huis met tennisbaan. Een privébaan was de enige legale oplossing voor ons verdriet.
Op een gegeven moment had ik gevonden wat ik zocht. Een monumentaal pand, ver onder Utrecht maar nog binnen een uur rijden van Amsterdam op de A2. Een nogal statig huis met mooie witte strepen op de zijkant en een rode tennisbaan in de achtertuin. Op de foto's leek het honderd procent op smashcourt, omdat de ondergrond er zeer vlak bij lag. Het was smashcourt, of het was een gravelbaan die er bizar goed bij lag. Het was minimaal tweehonderdvijftigduizend euro duurder dan we eigenlijk konden betalen, maar die tennisbaan lonkte uiteraard.
Na honderd keer drukte ik om één uur 's nachts toch een keer op de knop dat ik geïnteresseerd was en liet mijn telefoonnummer achter.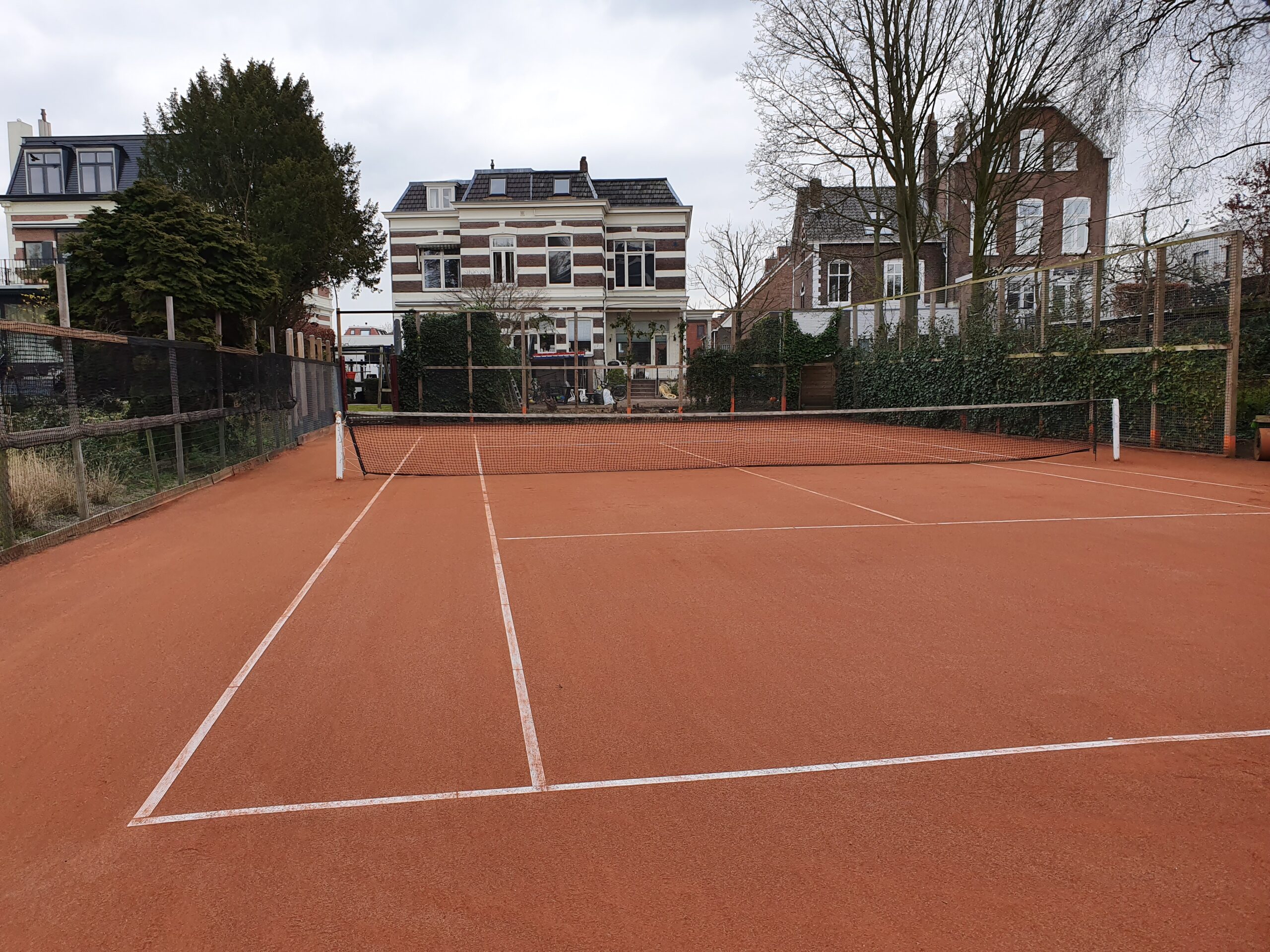 Een week later stonden mijn partner en ik op een schitterende gravelbaan. De makelaar zelf had niet door dat de foto's van de tennisbaan op de website geen uitsluitsel hadden gegeven over de ondergrond, of dat dit belangrijk was. De baan had niet mooier kunnen zijn. Toen ik op de baseline stond, keek ik naar de witte accenten van het monumentale gebouw, en was verkocht. De tennisbaan was volgens de makelaar ooit gebouwd, omdat de verschillende buren tientallen jaren geleden veel met elkaar speelden. Dat was ondertussen veranderd, maar ik zag het zo voor me.
Het huis was verder als een droom, met open haard, een extreem hoog plafond. Veel ruimte, als je Amsterdam gewend bent. Veel hoefde er niet te gebeuren. Vanuit de keuken, en ik houd van koken, had ik uitzicht op het rechterdeel van de tennisbaan. Het was liefde.
Zelfs nu kijk ik nog één keer per maand naar het huis, waar we nooit zullen wonen, en dat we misschien nooit hadden moeten bekijken, want als je eenmaal het woonparadijs hebt gezien, wil je niet meer terug naar je rijtjeshuis.
We konden het echt niet betalen, en het ligt in een gemeente waar we nooit willen wonen. Maar zelfs mijn schoonvader hadden we in het proces betrokken. Hij zou eventueel in een tiny-house kunnen wonen in de tuin enhet huis mee financieren. Dat was kort gezegd de status van onze wanhoop.
Ondertussen kwam er een update van mijn goede vriend, over de mysterieuze tennisbaan in het bos. De eigenaar van de tennisbaan was niet zo blij met het eerste contact. 'Je bent al de zoveelste die belt', gromde de man. De charme van mijn tennisvriend – in het dagelijkse leven onder andere mediator – wist gelukkig het ijs te breken. Voor vijf euro per uur konden we weleens op een zaterdagavond tennissen. Als we alles netjes zouden achterlaten, kon het eventueel vaker.
Het ging gebeuren. Een maand na de officiële lockdown. Zaterdagavond om zeven uur. Een uur tennissen. Een andere vriend kwam ook, om zijn nieuwe drone uit te proberen en te komen kijken, zijn standaardrol als gezellige observator in dit soort gelegenheden, hoewel dat raar is om te schrijven, aangezien er eigenlijk nog nooit zo'n gelegenheid was als deze.
In de Albert Heijn kocht ik een paar La Chouffes, die ik zorgvuldig koelde in de ijskast en daarna in mijn tennistas stopte. Een blik met vier nieuwe tennisballen: check. Een oude tennisvriend zei ooit dat het leven te kort is om met slechte ballen te spelen en ik ben het nog steeds met hem eens. Ik pakte mijn tennistas in, zoals ik als 14-jarige mijn eerste tennistoernooien speelde. Alles dubbelcheck. Extra demper. Sporttape voor mijn pols. Handdoek. Gevulde waterfles. Twee oranje AA'tjes. En ik had een flesje handgel mee. Dat was nieuw, in de tennistas.
Ik kreeg instructies om de geheime tennisbaan te vinden. Uit privacy-overwegingen en omdat ik wil dat niemand die dit leest weet om welke baan het gaat, zal ik alleen zeggen dat de instructies zo waren: 'Ok, je kan er komen met auto. Het beste is om naar [adres] te navigeren. Er staat een bord dat je er niet in mag met auto's maar je kan daar langsrijden. Grindweg volgen totdat je op gegeven moment naar links af kan. Na ongeveer 100 meter kom je bij de tennisbaan en daar zal je een auto geparkeerd zien staan. Moet lukken en anders even bellen!'
Volgende appje: 'O ja, heb jij misschien nog 10 euro cash voor baanhuur?'
Een kwartier te vroeg ging ik rijden. De uitleg bleek vlekkeloos. Na wat manoeuvres vond ik mezelf terug op een bospad, waar ik stofwolken maakte en ik in de verte één auto geparkeerd zag staan. Het enige dat me verbaasde, was de omgeving. Het was het begin van een bos, maar toch zo afgelegen van de grote weg dat je het onmogelijk zomaar zou vinden als je er niet in de buurt woonde.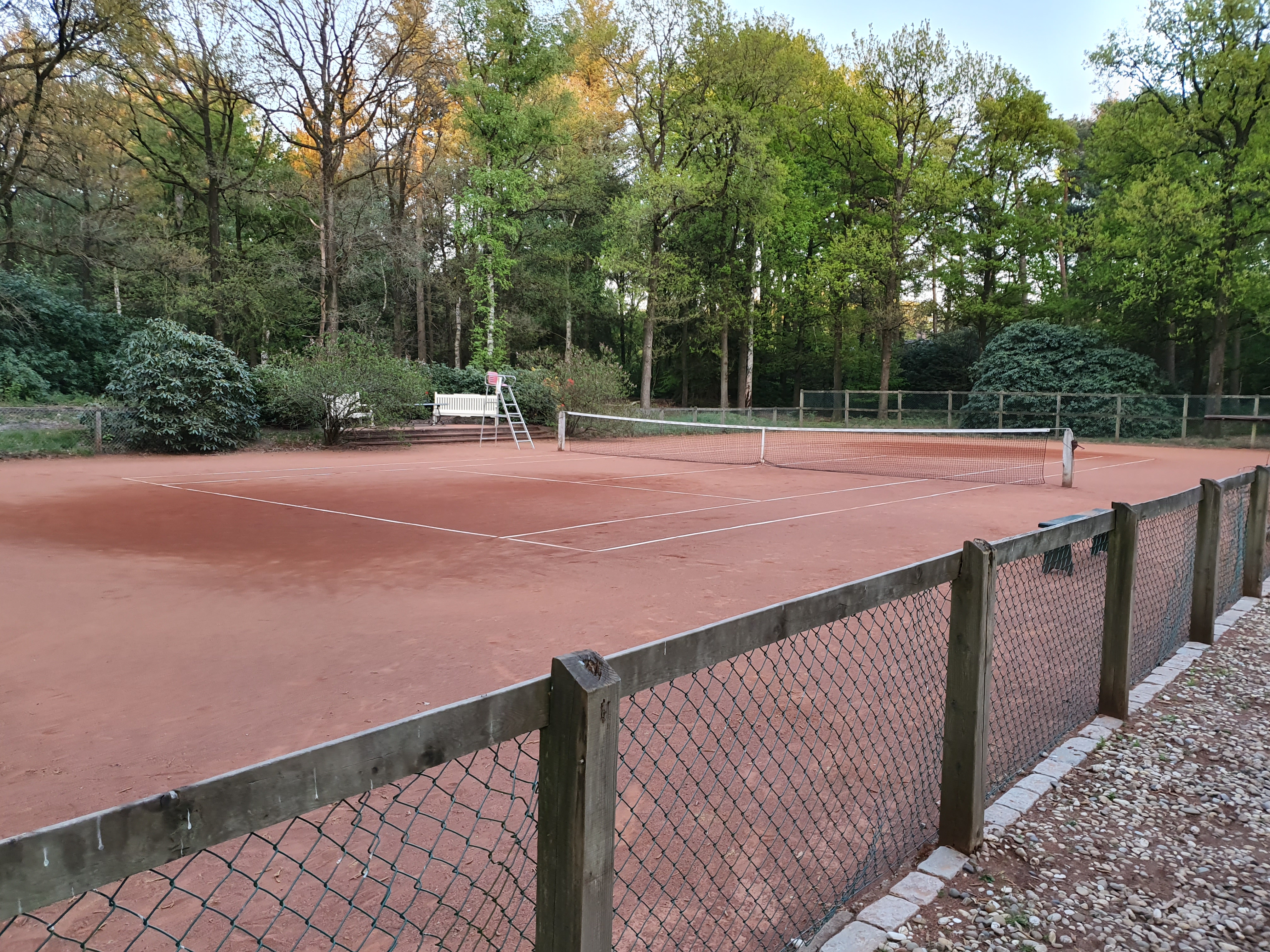 Ik moest door een soort groene haag lopen en belandde in een soort fata morgana. Midden in dit bos in Nederland had iemand ooit een tennisbaan laten aanleggen, met Wimbledon en Roland Garros in z'n achterhoofd. Aan de zijkant was er een verhoging gemaakt, waar twee witte banken uitnodigend waren geposteerd. Je moest een boog onder, om op de tennisbaan te komen. Het hekwerk was wat provisorisch. Een stuk hout en wat gaas. Dat was het. Dat onderstreepte juist de zeldzaamheid van de baan. Pronkstuk was wat het huisje naast de tennisbaan. Een houten huisje, met binnen een tafel, stoelen en een ijskast en allemaal houten rackets als ornamenten. Er was zelfs een werkende WC aan de achterkant. Aan alles was gedacht. Zelfs aan twee bezems om de lijnen wit te vegen.
The Shawshank Redemption
Het was alsof ik weer voor de eerste keer ging tennissen na een lange blessure. Ik ging op de baseline staan en keek naar mijn tennisvriend, aan de overkant van het net. Maar ik keek vooral naar het bos, achter hem. Ik was alleen nog wat huiverig om de tennisbal lang vast te houden, zo bang was ik nog voor het virus.
Het bleef een beetje surrealistisch. Ik keek vooral vaak om me heen. Naar het bos, de eenzaamheid van de tennisbaan. Als tennisser speel je eigenlijk altijd op een park met meerdere banen. Na vijf minuten inspelen, tien minuten crossen, en puntjes spelen tot de zeven volgde een oefensetje. Ik won met 6-3, maar dat was bijzaak.
Na een uur en een gesprokkeld extra kwartiertje, gingen we op zeker twee meter afstand van elkaar zitten. We legden de envelop met tien euro – vijf euro per uur – op de tafel in het clubhuis annex tuinhuisje. Het was kwart over acht, het lentezweet druppelde eindelijk weer langs mijn armen. Ik opende twee flesjes La Chouffe en voelde me als in de gevangenisfilm Shawshank Redemption. Als de gevangenen na uren arbeid voor de verandering eens een biertje mogen drinken. Ze voelden zich in een abnormale situatie voor even normaal.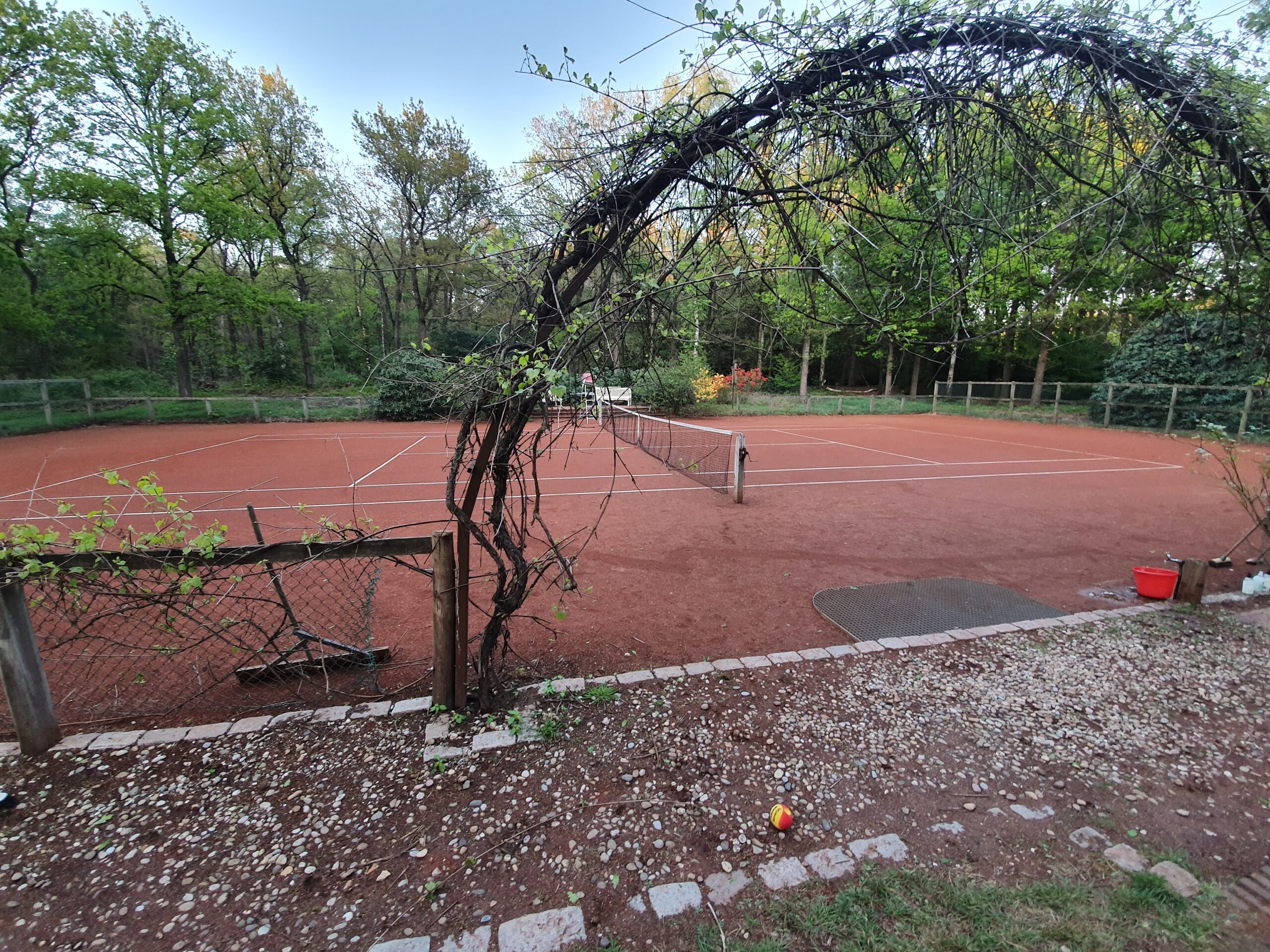 Die eerste paar weken gingen we elke zaterdagavond op onze bosbaan tennissen. Het was heerlijk. Omdat niemand van ons sociale afspraken had. Het klinkt onverantwoordelijk, maar het was het enige uitje in de hele week. We hoefden geen agenda's naast elkaar te leggen, want die was bij iedereen schoongeveegd. Elke zaterdagavond was tijd voor tennissen op onze idyllische privébaan en een biertje. Daarna de lange weg naar huis.
De eigenaar van de bosbaan kan bij de tweede en derde lockdown opgelucht ademhalen. Hij wordt niet meer overstelpt met telefoontjes van wanhopige tennisliefhebbers. De beslissing om tennisparken nu wel open te laten is terecht en goed voor de gezondheid en de tennissport. Sterker nog, Eer is geen sport meer coronaproof dan tennis. Mocht er ooit een ultrastrenge lockdown komen, een derde of vierde golf, dan is het fijn dat ik alternatieven heb. Ik heb nog nagekeken wat het kost, een privébaan, maar voor minder dan vijftigduizend euro kun je er niet een in de tuin installeren.